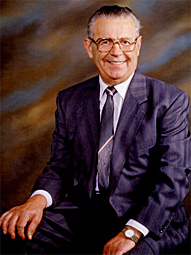 Branko Sarafilovic, Founder of The
Pars Group of Companies.
The History of Pars Foods Ltd
Born in the former Yugoslavian Republic of Macedonia, Branko Sarafilovic first arrived in Harwich, England in 1948, travelling as a displaced person.
The following year Branko moved to lodgings in Kilmarnock where he was able to find work within his trade as a baker.
Following a lifelong ambition, Branko bought his first business in the Gorbals district of Glasgow in 1952, expanding to buy a second business in the Anderston district two years later.
By 1957 Branko had bought a bakery in Maryhill Road, Glasgow to which he transferred all production. With an expanding number of customers it was time to choose a company name. This was created using the initial letters of his three son's names (Philip, Alexander and Radovan) plus the initial of the family name Sarafilovic — "Pars" was born.
Thereafter Pars Bakery became a well-known name in the Glasgow area, trading from Maryhill Road until proposed road redevelopment by Glasgow Corporation necessitated relocation. In 1972 work started on the building of Branko's new factory and a year later a new bakery stood on Dawson Road in Glasgow.
Trading both as a wholesaler and a retailer with sixteen shops, business continued to grow to the point where Pars Bakery was left behind to make way for the new larger firm of Pars Foods at Glentanar Road Glasgow.
The company is now run by Branko's youngest son Brian, Managing Director and Radovan, Operations Director, producing a range of savoury products and pastry cases, both finished and "Fill to Bake" for the food service market.